What are the best sites to use to earn by promoting Donkey mails?
This is the list of well performing Donkey APPROVED sites. Some are performing better than others but it's advisable to have them all if you want to earn consistently by promoting Donkey Mails (PTP – paid to promote $0.50/1000 unique hits) and No Minimum ($0.30/1000 unique hits).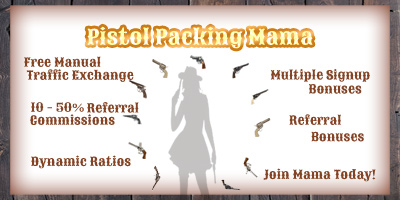 Absolutely best source at the moment. Recently timer has reduced to 3 sec only with 0.5 ratio for free members. Very fast hits delivery with reasonable amount of unique hits. It's one of very few sites from this list that have good earning potential. Pistol Packing Mama full review here

Huge traffic exchange with over half million members and over 20 000 unique surfers daily. 12 sec timer 1:1 ratio. Such huge membership guarantee many unique hits. I found 200-250 credits per link daily as good balance between used credits and unique hits. Site itself can use much more credits dialy but in that case % of unique visitors will drop significantly. Referral system goes 5 levels deep.
With 120 000 members and great reputation Tezak Traffic is one of must have traffic exchanges in any case. If you are doing Donkey PTP it will be an extra good reason to give some more attention and to spend some time surfing Tezak. It's not really one of "cash surfing" traffic exchanges but you will earn some money as well. Be sure to participate in Commando Surf events, when surfing ratio goes up to 100%. This is very good way to earn quickly good amount of credits. 150-200 credits per day is what you need to have your Donkey PTP link continuously in rotation for 24 hours. There is prize after every 15 pages surfed and if you are lucky you can win nice prize like I did few days ago 🙂
This is traffic exchange where you don't have to spend too much time. It doesn't deliver hits expressly but it is handful source to keep paid to promote average consistent. Surfing 200-300 pages once in few days will be enough to cover your link. For those who are collecting Zubees this is site where you can claim diamond coin after very few pages surfed.
Before it was one of best sources but after changes and after reducing even small earnings it lost popularity. However it still deliver hits quite correctly but there is certainly less surfers than before.
Legendary traffic exchange. It's hard to find serious surfer who didn't spent at least few months on this site. There is big surfing community there, always interesting chat, team surf, many games and prizes. If you are looking for good fun while surfing this is traffic exchange for you. Traffic Swirl is participating in Commando Surf so be sure to use 100% surfing bonus when available. The speed of hits delivery is medium and you can cover your link with occasional surfing.
Quite big traffic exchange with nearly 40 000 members will deliver good amount of hits. 3:4 surfing ratio is not bad but 15 sec timer with earnings almost equal to zero makes it less attractive. It will surely improve your total PTP results.
Donkey mail sister site. It will not send big amount of hits but they will all be unique. Over time you will earn more credits than you can spend so once you save enough you can take break for some time. Be sure to click "points ads". You can find them after "cash ads" on 12th-13th page. Point ads have good value when exchanging for credits.

Another site from Donkey and No Minimum group. It will send very small traffic but you will have to spend very little time on this site. Considering add value, payout minimum of $10 is too high and hard to achieve. The best way to use this site is to read paid mails, click only highest value ads and exchange those earnings for credits that you will use for Donkey promotion.
Over time on some sites you will accumulate enough credits and it will require very little time to manage them. It would be good to push little bit harder in the beginning to secure your PTP link is getting hits all the time.
How much you can earn by promoting Donkey Mails and No-Minimum?
You will be paid only for unique hits so do not assign all your credits at once. It's much better to assign them daily, some by some. 150-200 credits per day on each site will be enough to secure continuous flow of unique hits to your Donkey Mails and No Minimum paid to promote link.
This amount of credits (with few high value ads clicks) will make you about $0.08-$0.10 on Donkey and about $0.05-0.07$  on No Minimum per day but those are stats for working on promotion for about 1 hour to 90 minutes 2-3 times per week. You will also earn cash for surfing traffic exchanges for what I specially recommend Pistol Packing Mama.If you invest more time the results will be better but be aware that unique hits are what is counted.
As you see below % of unique hits decrease from day to day since there is more repeated visits. If you don't want to waste too much credits do not assign them all at once.
Here is how many Donkey Mails paid to promote credits you will receive in average for using this sources. It is time consuming and for this results it will take 60-90 minutes 2-3 times per week.