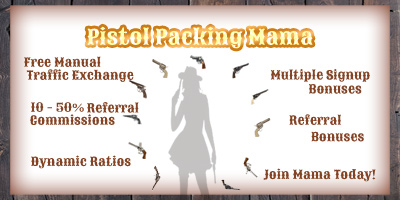 Basic info and tips about Pistol-Packing-Mama Traffic Exchange:
Online since: July 2014
Owner & Admin: Renée Vorbach
Members: 2018 active verified
Timer: from 10 seconds for free members to 3 seconds for highest upgrade (timer recently reduced on 3 sec for all members )
Hits Delivery: Very fast, nearly 500 per URL daily
Links Allowed for Free Members: 10/10/10
Upgrades: $2.97, $4.97, $9.97 and $14.97
Daily Codes: Yes
Daily Rewards: Yes
Collecting: Zubees, badges, CTP XP, Collections
Promos and Contest: Daily
Surfing Ratio: 0.5 to 1.5 (dynamic increases)
Payout Minimum: $15
My Tip:
Pistol-Packing-Mama is a great Traffic Exchange with great daily promos and nice prizes including cash.
Always be attentive while reading the emails Mama sends you! You never know what you could find …
Mama is a very helpful and caring owner and if needed you can easily find her in chat. I love her "Juicy" Texas language.
You will get paid on simple demand.
Note:
It is one of the best Donkey Paid to Promote approved traffics. It means you will earn cash if you are promoting your Donkey PTP link on Pistol Packing Mama. If you don't have better strategy this can be good way to spend your credits on. If ever, you will make very few referrals (mostly not active ones) by promoting simple links on traffic exchanges. If you are not using a bit "advanced get referral strategies" it could be good idea to make some money with your hard earned credits than to throw them for no results.