Magic of Traffic – Traffic Exchange Short Review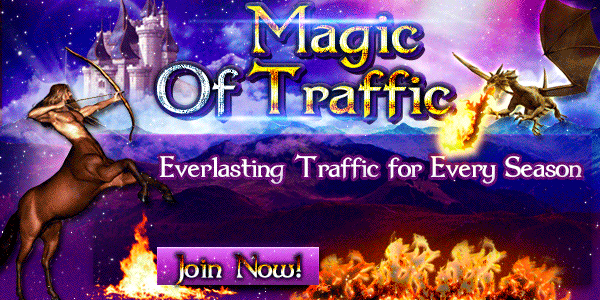 Magic of Traffic – Traffic Exchange Basic info
• Online since: January 2015
• Owner & Admin: Mahesh G
• Members: 2000+ (Nov. 2016)
• Timer: 7 seconds for free members
• Hits Speed Delivery: Fast
• Links Allowed for Free Members: 5
• Upgrades: Search for better deals on often promotions. Regular upgrades $6.99 and $14.99 (recently reduced)
• Daily Codes: Yes. Often cross promos with other traffics
• Cash in rotation: Sometimes
• Collecting: Zubees, Hourly Raffle Tickets with some cash and credits
• Surfing Ratio: Dynamic Surf Ratio starting at 0.3 for free members to 1:1 for upg.
• Payout Minimum: $20 for free & $10 for upgraded members
• Weekly Reward: JackPot
• Signup Bonus: 100 pages 250C/250B/250T
• The Clickers Team Special Code: Enter Code TCTmember surf 90 for 900 credits
Magic of Traffic short review and tips
Considering fast hits delivery and number of members who participated in weekly jackpot rankings (showed some activity) it is very popular traffic exchange at the moment. Surfing ratio of 0.3 is bit too low for free members but if you watch on often promos you can get very good upgrade deals such is $2.99 for 1:1 ratio and 4 sec timer. Could save you some time and make bunch of credits. Certainly traffic exchange with good potential. Give a try yourself and collect over 1000 easy credits for testing Magic of Traffic with The Clickers Team.
Magic of Traffic and The Clickers Team
Thanks to Mahesh and his support, The Clickers Team members have opportunity to collect super easy 1150 credits with promo code that is set specially for our team.
Enter Promo Code TCTmember and surf 90 pages for 900 credits. Surf another 10 pages for Signup bonus of another 250C/250B/250T. That is 1150 credits for surfing 100 pages only. Test Magic of Traffic with The Clickers Team and get this super easy bonus credits. It's worth to try and this is far best possible offer. Guaranteed
Check full list of Traffic Exchanges recommended by The Clickers Team for MANY free credits.